(View All Posts)
Blog
The Dead Sea + Ghoul + Caitlin Park + Skinny Jean @ Excelsior Hotel, Surry Hills
Sunday, October 18 this gig was one of many adoption events from the much disscussed closing of the hopetoun hotel. this evening began with my friend Huntly a bang banging on my door, demanding that i come see this gig and im glad i stopped the HSC exam study to go....
the night began with the best thing that came out of Brisbane since the tramp stamp, Skinny Jean. I had seen them once before, supporting Deep Sea Arcade in their joint single release tour. The front man and lead singer Skên Onion at the time looked as if he was about to spit his skin open and punch through the roof of the late Hopetoun. Tonight's gig was contrasting to the first time i saw them, there seemed to be a more mellow, controlled and plasid atmosphere to the set, and having tasted a fine wine for the second time, i wasn't so much concentrating on absorbing all there deep south tragic operas, but now was able to recognise and keep up with them. p.s its good to see that the band have gotten their shit together from their first ever show (see below)....
But, having said that it was disappointing to hear that the band was pissed off about their set and had no trouble voicing it during Caitlin Park's set when Caitlin complemented and thanked Skinny Jean for a wonderful show, this was followed by "BULLSHIT!" from the darkness by the singer of the band. Cutting throught the 20 head audience and brought 'awkward' into what was a comfortable sunday afternoon. without even a glance up from his Iphone Onion had labelled the night as a flop. Here is the evidence first hand recorded on my phone...
Skinny Jean's set was the best i had seen them, they are a great band. stand out performer of the band was defiantly Samuel Schlencker awesome guy, awesome glasses, awesome drumming.
I had never heard nor heard
of
Caitlin Park but was curious at the girl/boy/girl lineup. these kids are adorable. there mix of acoustic sing-a-longs with sampling and electric strings worked extremly well. it seemed that most of the inspirations where tangents off cult movie classics like Hitchcock fils and Capote novels.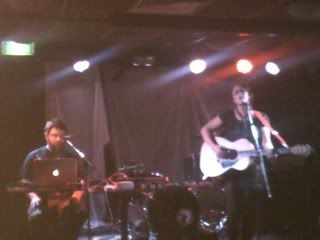 But the highlight in my eyes was the ever cool ever hip Ghoul! these boys in my opinion are the indie pin up boys following on from the Dave Rennicks (Dappled Cities) before them. their stand out hit 'Swimming pool' (see below) has most defiantly been adopted as the teenage summer anthem and i cant help but stare at them like a awkward school girl at a basket ball match.
here is ghouls playing their hit swimming pool oh yes...
All in all a great night, and i hope it has taken me and my friends one step close to receiving and astrix in my HSC!
xx
eliza