(View All Posts)
Blog
The night i saved Josh Homme's Life
Have been a fan of Queens of the Stone Age for the longest time now, their live shows were especially transfixing, the first naked man I ever saw was Nick Oliveri when he decided the Australian sun was too hot to perform at a festival and stripped off between chords hiding his tackle behind his Stratocaster.
Sometimes the urge to always gravitate to the front row never works out well, as the 12 year old me found out when Oliveri decided to dance sans guitar with his meat and two veg flapping about. (anyone seen Bruno? It was like the slow motion dancing genitalia scene;)
But peeking at schlong was never why I kept coming back to see QOTSA, it was simply to witness the fury they pack on stage and to hear the songs I've played so much I had to get a new copy of the album caz I scratched the hell out of them from overuse.
A know a lot of bands sound better live than they do on record, but that's mainly because their production is shit, QOTSA however is brilliantly produced, creating many dark yet zany musical landscapes in between songs but their music is made to be played live and flippin loud! Everytime I see them it is a shock to my system.Theres no better feeling than jumping as one in a moshpit with thousands of people screaming along to your favourite song except for meeting the charismatic front man who created said song.
The night I met my favourite ranga –tang , Josh Homme it was for their promo tour for lullabies to paralyse at The Enmore in Sydney. The 2nd support band had just finished and the blisters on my feet had not already formed but popped,filling my shoes with blood.
My mates cemented my spot while I ran outside in search for a 7/11 for some bandaids. After I came out I saw a few drunk guys swaggering outside dominos one in particular who had a bottle of whisky in one hand and two meatosaurus pizzaboxes in the other just about to stumble onto busy enmore rd.
Now anyone who knows me can vouch about my weird phobia of crossing the road. My heart starts to beat a hundred miles an hour , my breathing gets panicked , I grab hold of anyone in my reach then run across screaming even when cars are 100mtrs away.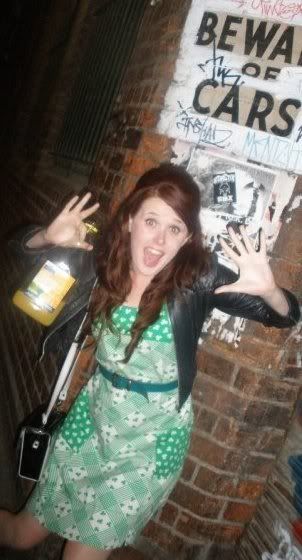 I have asked all my relatives if there was some particularly scarring incident in my childhood when I was almost hit by a car or if I was in an accident or witnessed a huge car pile up of some sort as I have no idea where this irrational fear comes from, but they told me my crazy grannie (who I'm apparently a dead ringer for) had a huge phobia of escalators and wouldn't let any of her 7 children go into any building/shopping center that had "automated stairs" if she was around for fear of falling/ getting stuck/ripped under.
Anywhoo back to the story,
The drunkman who stopped in the middle of enmore rd to pick up a dropped piece of pizza, stumbling around with traffic blarring at him turns out to be married to broody dale and had an orange tinge to his hair. Yes it was Josh Homme!
This was a very pivotal point in my life when I put aside my fear of the road and suddenly had boundless courage I ran onto the middle , kicked the pizza box aside and dragged josh away to the other side as cars beeped at us. Actually "picked up and ran" would be more accurate. Although he is quite tall, muscular and stocky, I somehow required the superhuman strength only reserved for mothers when their children are in trouble.
We sat on the gutter breathing heavily for a while then he thanked me and then tried to cross the road again as he had to be on stage in ten.But my road rule transfixion took over and I grabbed his hand and made him walk to the traffic lights and wait for the green man!.
Josh thought this was hilare but still held my hand and walked across the road with me when the cars came to a complete stop "as it was the Australian way" he then thanked me for saving his life by giving me his remaining surviving piece of pizza and told me he should employ me as his "transportational bodyguard" before chuckling and swaggering off onto stage.
I never got to eat that pizza as it crumbled as I weaved my way through the crowd to my old spot and made it in time as the curtain went up for one of the most amazing rockin sets I have ever seen –that wouldn't of happened if I didn't overcome my fear of cars.
I even went home with the cowbell they used for little sister!
anyone else going to see them crooked vultures? I bought tickets after only hearing one song -just due to the line up alone, good thing the album is a corker
Look both ways peoples!